Docsvision
Platform
We help manage documents and business processes
Docsvision is a fully fledged EDMS/ECM platform which helps implement the most versatile solutions to automate business workflows and documentation processing.
Docsvision 5.5

— EDMS/ECM platform for today's needs
docsvision 5.5
The most advanced technologies right out of the box
Docsvision 5.5 outperforms all previous versions because it's a modern ECM system in every sense of the word. You will be able to store all digital content of your company and also manage documents and processes on a single platform.
Forget about bottlenecks and take advantage of growth opportunities

Add new users, automate new processes and extend your data storage without any hassle. No matter how many users you add — 100 or 100 000 — everything will keep working. The system supports data caching and clustering of its key components to ensure ultimate performance in all situations.

Fast document processing, data search and data access

• Our redis-based caching service works in RAM which is shared among all database clusters.
• Integrated Elasticsearch used by Amazon.
• 40% faster rendering of routine operations. Handling of registers with 500,000 documents is now several dozen times faster.

Convenient deployment, update and maintenance

Docsvision 5.5 features modular architecture. Each module can be installed and updated separately to prevent downtimes during technical maintenance and reduce the burden for the customer's IT department.

Easy integration

Ready-to-use integration gates for 1C, SAP and other corporate-level IT systems without any coding. Integration with legal documentation workflow operators and any other IT systems through XML or web services using our open API.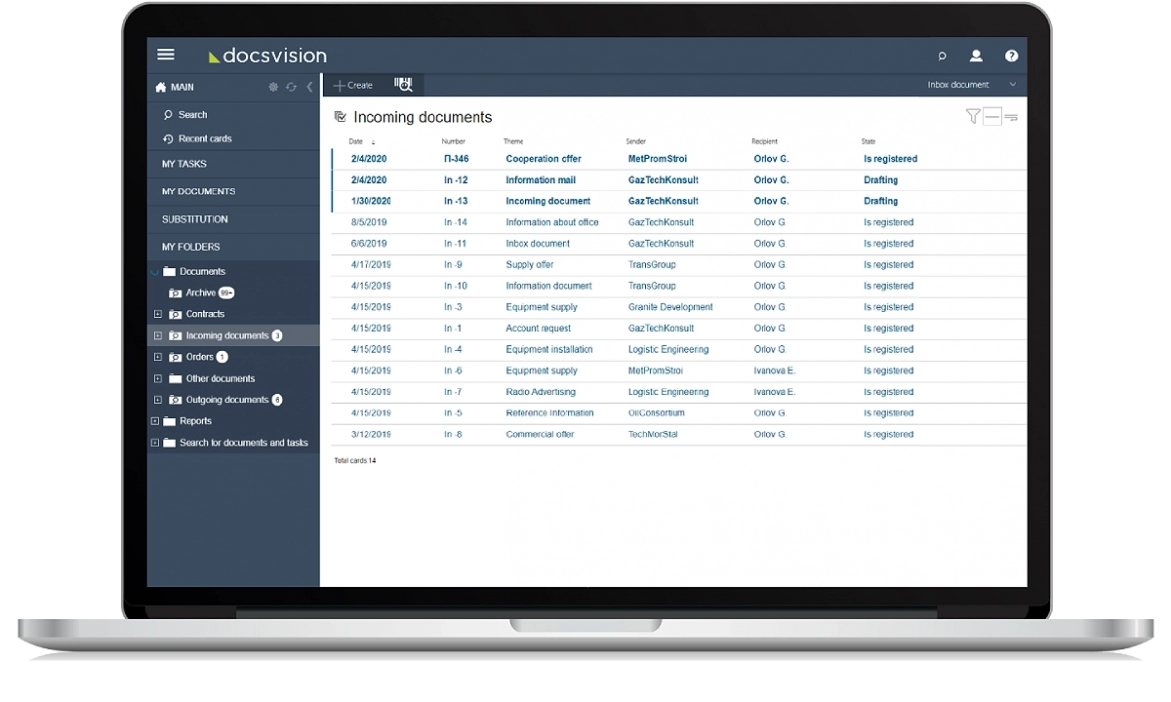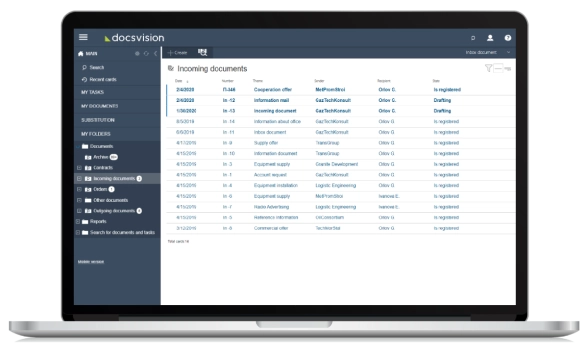 READY-TO-USE SOLUTIONS
Rapid adoption
20 years of the platform development and 1 500 successful implementations allow us to automate document workflows and business processes quickly based on ready-to-use solutions.
Applied solutions

Management of documents, business process and tasks. Tools for teamwork. Electronic archive, management of contracts, requests and employees, and Service Desk.

Industry solutions

Appeals from citizens at public offices, foreign exchange control and loan processing at banks, order management and production programs at factories, and settlement of losses.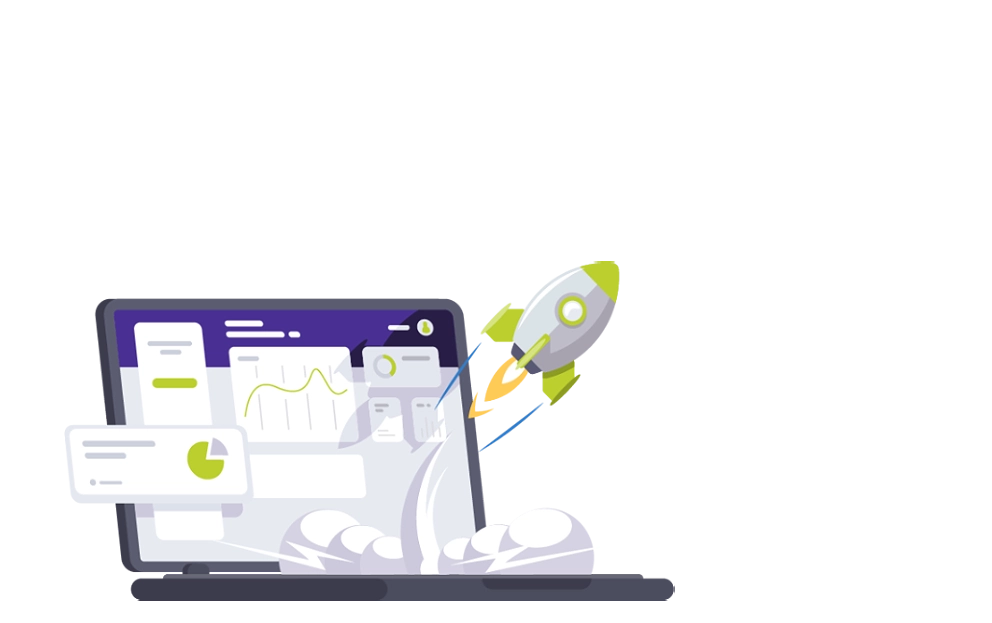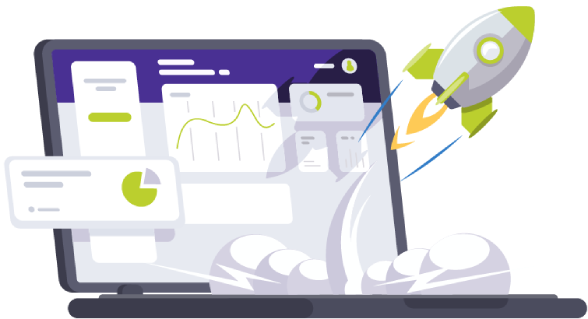 Low Code technology
No coding
Create new widgets or modify the existing ones without writing any program code. The system offers 10 visual builders: for cards, approvals, business processes, reference books, and more.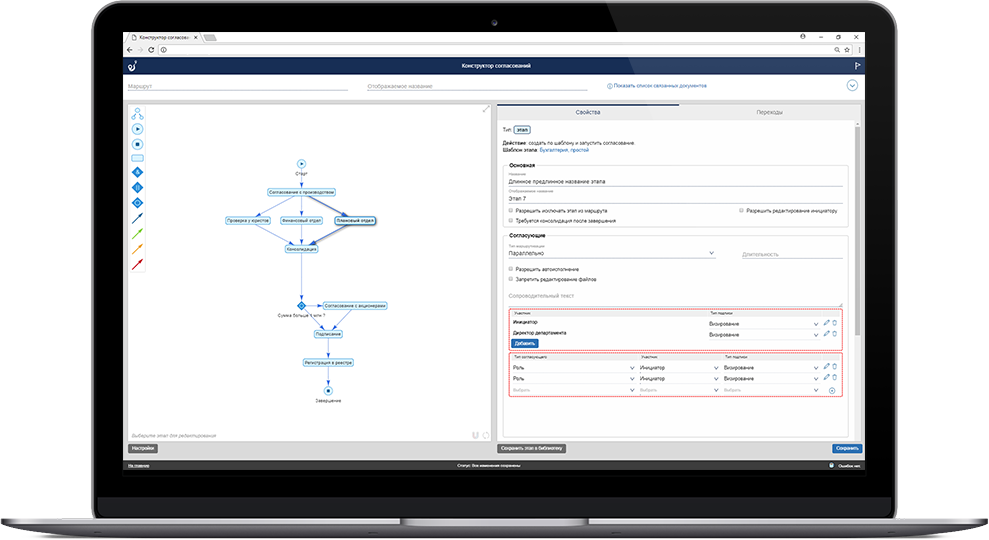 ACCESS FROM ANY DEVICES
Lightweight mobile UI
Docsvision's web client is always ready to help: highlight entry fields, show suggestions, move focus to the active UI control, display a brief summary of your assignments or even handle a document or task for you in the background.
Web client for any devices

Convenient web client accessible from any device. Tools for custom branding and UI personalization.

No training is required

95% of users consider our default UI intuitive and convenient, but you can always customize it in your own way.

Work right from your email client

Approve contracts, sign documents and allocate tasks right from your email client even without logging in to the system.

Workplaces for iOS and Android users

Manage documents and tasks right from your tablet or smartphone. Take advantage of e-signature capabilities even when you work on mobile devices.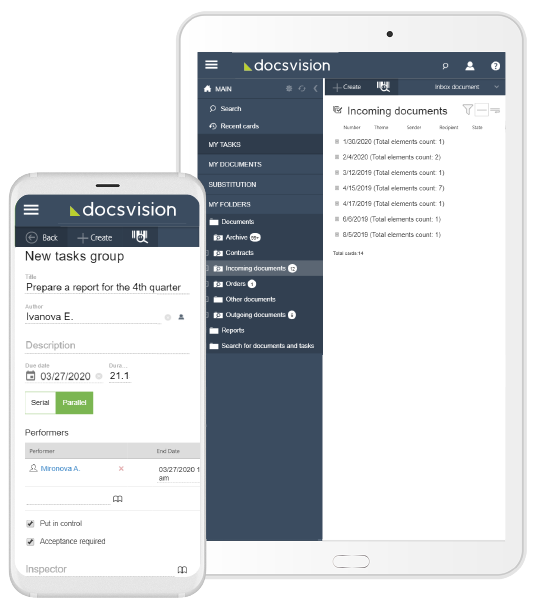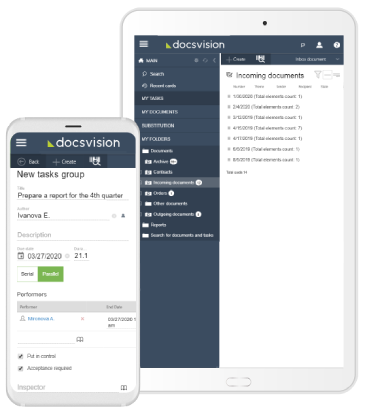 INTEGRATION AND SCALABILITY
100 000+ users like a charm!
With Docsvision, you will be able to create distributed solutions for up to 100 000 simultaneous users and ensure smooth integration with various IT systems adopted at your company.
100 000 simultaneous users online

The system was tested on 100 000 simultaneously connected users and showed no signs of performance drops. And this is only the beginning.

Ready-to-use integration gates

Thanks to its ready-to-use integration gates, Docsvision seamlessly integrates with third-party IT systems without any need to write a program code.

End-to-end automation

Complete solutions developed in collaboration with our technological partners make it easy to stream input data, recognize and protect documents, build document templates and set up legal documentation workflows.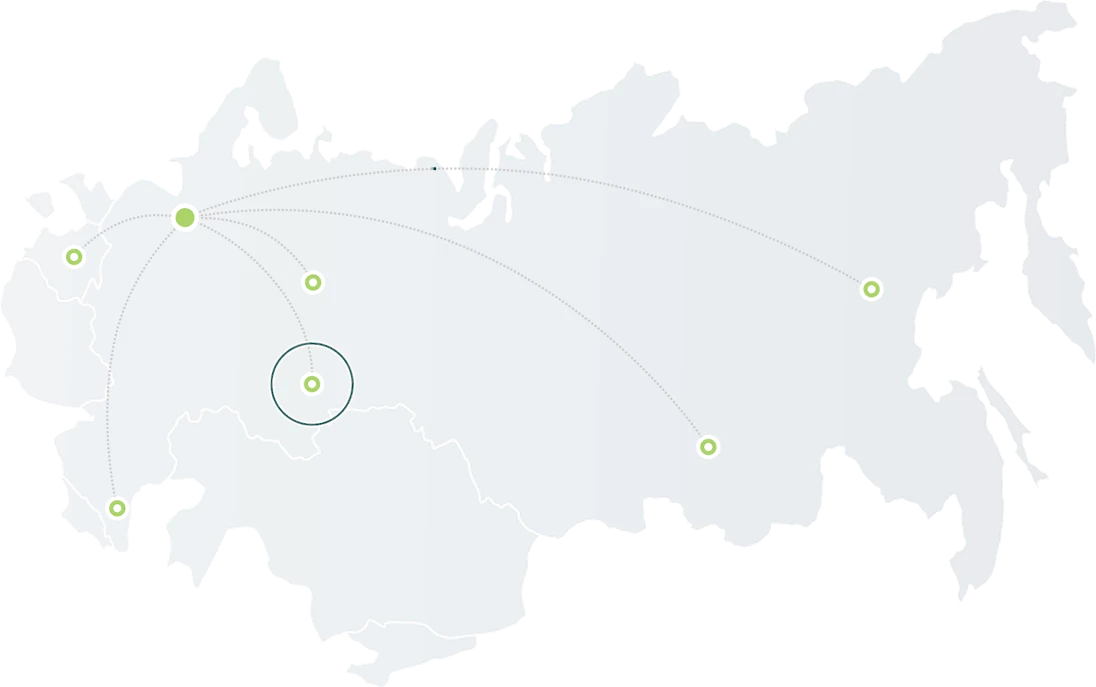 IMPORT SUBSTITUTION
The best alternative to foreign solutions
Officially recognized as 100% Russian corporate-level software — our company is a member of the Association of Russian Software Developers "National Software"
Added to the List of approved Russian software

Docsvision was added to the unified register of Russian software by the decision of the Russian Software Expert Council of the Ministry of Digital Development, Communications and Mass Media of Russia.

Certified by FSTEC

This enables companies with stringent IT security requirements to use Docsvision with confidence.

Support of PostgreSQL and Linux

Docsvision supports open-source database management software and operating systems, such as PostgreSQL and Linux.

100% Russian software!